Whole House Energy Harmonizer
Your home should be more than just a pretty space. It should feel good and be good for you. We've harnessed the power of high vibrational energy in our Pyramid so the atmosphere in your home is helping you at the deepest and most profound levels. It's true—when the energy is good, you can feel it! You, your family, and your guests deserve the best when in your home. 
The Harmonizer Pyramid stabilizes the energy field in your home, clearing out negative energy and removing blockages. It creates a sense of sanctuary permeated by harmony, clarity, and safety. The bio-resonance process emanates the beneficial energetic frequencies that accomplish this, filling your home with a feeling of "good energy" – similar to what you feel in a natural environment like the woods or the beach. A balanced and protected energy field is optimal for all the inhabitants of your home to flourish and thrive. That includes people, pets, and plants!
Once you have your Harmonizer Pyramid, get Instructions & FAQs here.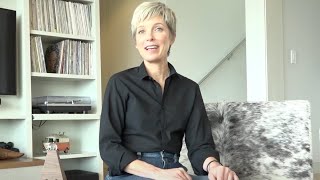 + The Harmonizer Pyramid is ready to use when you receive it.
+ The ideal location is the largest room in your home where you spend the most time, and the closer to the center of the home the better.
+ Spreads harmonizing energy through an area up to 2,500 square feet.
+ If your home is more than 2,500 square feet you may want to consider a second pyramid.
+ Perfect for the office, too.
Materials. American Chestnut wood with Swarovski crystal on top. The spiritual qualities of American Chestnut include abundance, relieving worry, and transforming karma. Inside the pyramid are two ceramic elements to carry the energy to the crystal on top, which then projects it out into the home.

Size. 7 inch square pyramid measuring 13 inches high.

Care. Clean with natural surface cleaner or wood polish. Don't use harsh chemical cleaners.
Q. What will I feel when using the Harmonizer Pyramid?
A. The effect is subtle and will take a couple of weeks to reach its full effect. The feeling can really be summed up best as "good energy". You should notice a more relaxed, protected, balanced, and peaceful energy within your home. It has benefits for all beings within the home - people, pets, and plants. Watch your plants after you are using it for a while, you should see their health improve!

Q. How do I clean the Harmonizer Pyramid?
A. You may clean it with a natural surface cleaner or wood polish. Don't use harsh chemical cleaners.

Q. How long will the energy in the Harmonizer Pyramid last?
A. Its energy will last indefinitely. It doesn't wear out or need to be "recharged".

Q. How much area will the Harmonizer Pyramid cover?
A. It will influence an area up to 2,500 square feet. If you have a very large home and/or two rooms where you spend a significant amount of time, then you may want to consider a second unit for even more harmonizing energy.

Q. What else can I do to harmonize my home?
A. We highly recommend pairing the Pyramid with our Carbon+ EMF Home Harmonizer Kit. These two products work synergistically together to protect the inhabitants in your home from the negative health effects of EMF radiation - and makes your home feel like a peaceful sanctuary.
Powerful rays of healing energy
The harmonizer pyramid is a beautiful piece of art that is also a conduit for some powerful rays of heaing energy! The stream of peaceful, calm and serene energy that emanates from the pyramid is a wonderful addition to our mountain home. We love it!
That's so wonderful to hear! Thank you for sharing your experience with the Harmonizer Pyramid. We're very glad to hear you're enjoying the high-vibrational energy!
Pyramid of comfort
I love the harmonizer pyramid, It's a beautifully crafted piece and it has a presence about it. It holds a high frequency clear and harmonious space. It's comforting, peaceful and is the perfect addition to my creative music and art studio.
I am lovinig my new Harmonizer Pyramid
My home is my sanctuary and the energy feels so good and so calm with my Harmonizer Pyramid. My plants are thriving. I am so happy with my purchase I am thinking of buying a secod one for my bedroom. It is beautifully crafted. It was packaged perfectly and delivered promptly. Thank you Life Harmony Energies! I also have several other products from LHE.
Peace!
This beautiful harmonizer pyramid is on our coffee table, and I love it! It sends prisms of light across the room from the crystal on top when the sun catches and has such a positive effect overall. Our home feels more peaceful, comforting, relaxed, and calm. I can tell a difference in our plants and pets too! It is definitely worth the investment; you will be amazed by the difference it has on your life and home! I am already thinking of adding a second pyramid for more harmonizing energy in another area of the house!
Simply magical
I have my harmonizing pyramid sitting on a gorgeous mid-century modern coffee table from the 60s which not only matches perfectly but at certain times during the morning the light hits the crystal and casts beautiful rainbow prisms in the room. So magical! I frequently accompany this with healing frequency music playing on the tele. Since getting it, I feel very happy in my home; it looks like my plants and pets are happier too. I do feel the bio resonance energies creating such a peaceful Zen-like atmosphere which is what I desire. I couldn't be more thrilled. I have several other products from LHE and plan to get a few more. Just like Tesla said… if you want to understand the universe you need to think in terms of energy, frequency and vibrations. 5- star quality & service - wholly recommend! Very happy 😊
We're so happy to hear you love your Pyramid, Linné, and your home is feeling so Zen. Isn't that crystal the best? Thank you so much for sharing!